What are VR Experience Days?
VR Experience Days are full of fun, exciting, immersive and fully inclusive games and activities for people of all ages and abilities. 
Welcome to a new reality…
Within a VR Experience Centre you will find a range of amazing, immersive and competitive gameplay and unique cinematic VR experiences. Virtual Reality (VR) technology creates new, digital worlds around us that we can interact with to varying degrees. VR experiences can make games and rides more entertaining and immersive, transporting players to worlds entirely separate from their own. Are you ready to experience the future of entertainment? 
Where can I find a VR Experience?
You can take part in excellent VR Experience Days at many locations in or near to your own locality. Find a centre close to you here and immerse yourself in a fun and exciting VR experience day now. There are thrill filled ImmotionVR entertainment centres located around the UK in London (O2), Brighton (Churchill Square), Bristol (Cabot Circus), Castleford (Xscape Yorkshire) and Glasgow (Intu Braehead) where you will find world leading simulators and technology creating exciting, immersive, competitive gameplay and unique, unforgettable, out of this world experiences for everyone.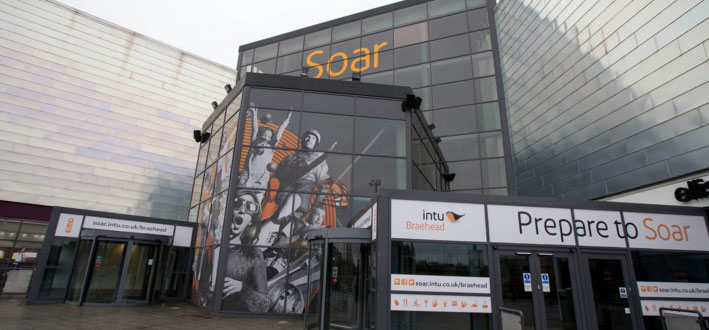 Who are VR Experiences for?
VR brings people together and is great for all ages and abilities. Beginner or not, the aim is to offer something new and innovative: exciting, immersive experiences in safe indoor settings at a great price. Virtual reality experiences make unique experience gifts and are perfect activities for days out in or near your own locality, catering to different groups of people at different times throughout the day: parents and children in the morning, teenagers in the afternoon, young professionals or work events at night, and families over the weekends.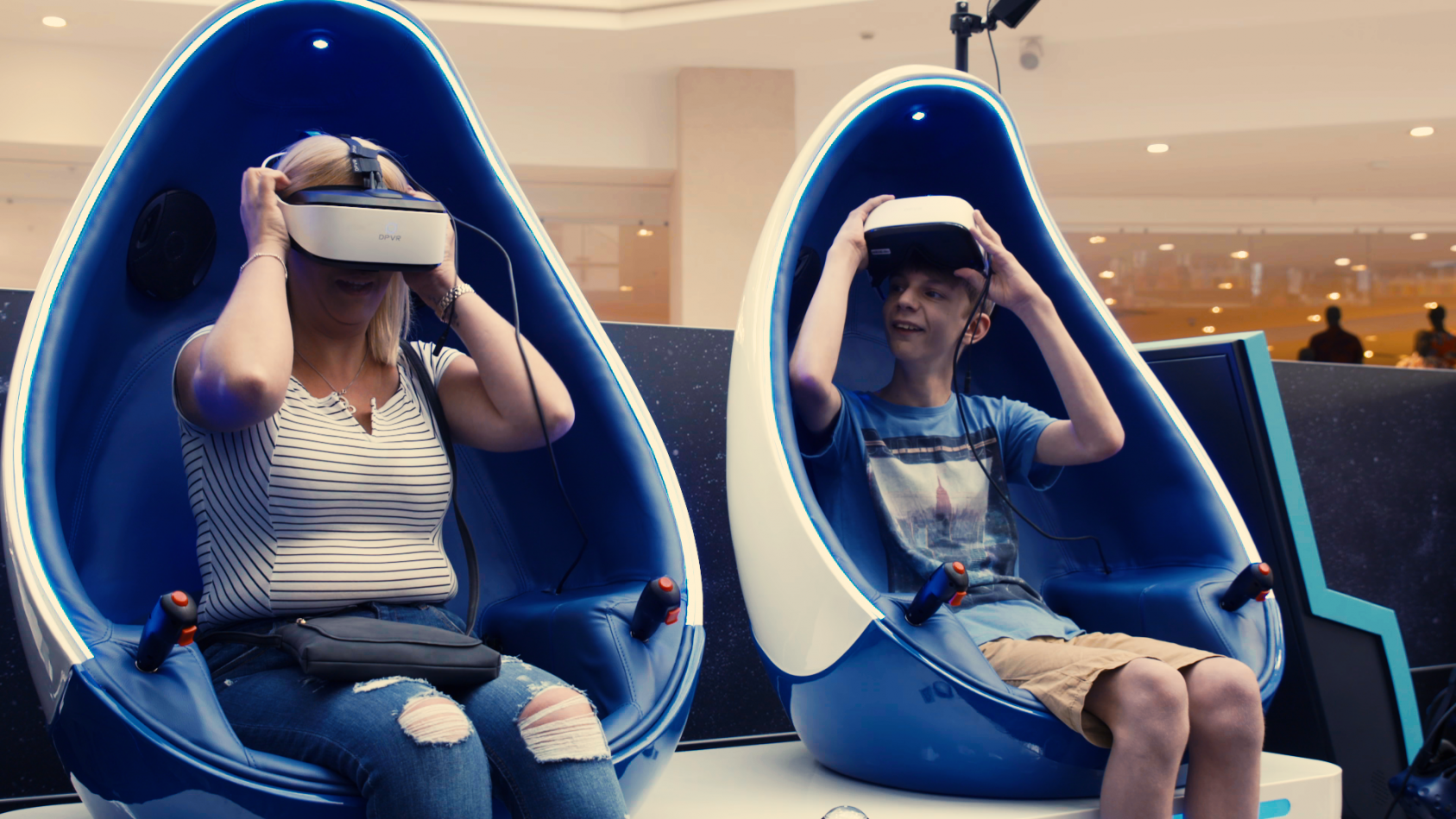 What if it's my first VR Experience?
Whether you have never tried VR before, want to give yourself a fright with a horror game or lose yourself in a convincing Sci-Fi adventure; top-of-the-range virtual reality experience centres have wide selections of games to choose from, including those specifically tailored for first-time players to experienced gamers, with single play games and shared experiences for family days out, groups of friends, work colleagues and school reward trips.
How long is a VR Experience?
Whichever game you choose, during your typical 15, 30 or 60-minute experience you'll become the hero of your own world as you enter a convincing virtual universe using only a headset, pod and controller.
How much does a VR Experience cost?
Find examples of prices for a variety of games and experiences below:
What can I expect to happen?
At a VR Experience Centre you will usually find single player, paired and multiplayer games – occasionally team VR Experiences up to 10 players. Once you put on your VR Headset, your boundaries disappear and your virtual journey begins. From here the only limit is your imagination. Will you travel to the Moon or survive a zombie apocalypse with your team? Will you defend an alien invasion or swim with the world's most dangerous sharks? The choice is yours.
Are VR Experiences safe?
A good tip to begin your first VR adventure is to opt for experiences that mirror natural body movement,  for example archery, laser shooting, or walking on the seabed. For interactive VR using Vive Pro headsets driven by a high-powered PC at a constant 90 frame per second frame rate and with natural player movement (eg – no flying) you will not experience any dizziness at all.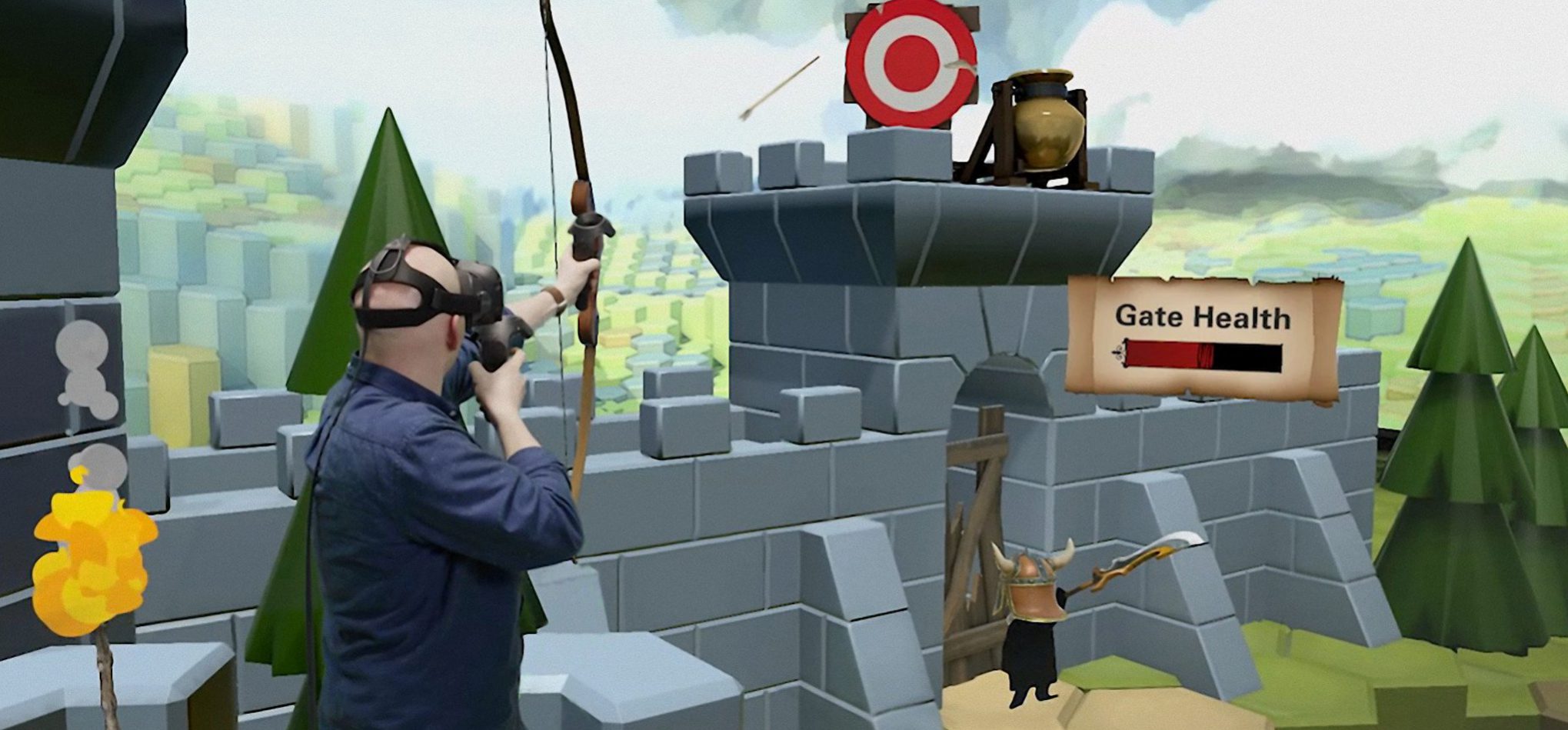 A little dizziness and nausea may be experienced by some people when their movements are not matched to what they see in their VR headset (eg –  flying). If your unbelievably vivid and realistic VR world does become slightly too much for your senses you can simply remove your headset for a moment to re-orientate and then re-immerse into your amazing VR experience again. 
Are VR Experiences inclusive?
Definitely. VR is for everyone regardless of his or her interests, age, gaming experience and knowledge of technology. There are a huge range of games and VR experiences available to ensure that every participant finds something to their taste. Trained staff are usually on hand to help with any questions you may have or to provide instruction or explanation to support your participation. 
Are there any requirements?
There is usually a requirement for children under a certain age to be accompanied by a parent or guardian and there may be height requirements on some VR pods. Generally, for interactive experiences the recommended age is 8+ due to the size of controllers and weight of headsets, and for VR Pods the recommended age is 5+.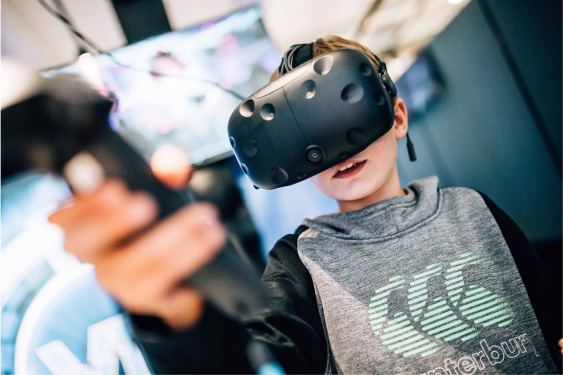 If you have a pre-existing medical condition such as epilepsy, have any sensitivity to light or motion or have a pacemaker fitted, you should seek advice from a trained health professional prior to your visit.
What's the current availability?
All UK ImmotionVR Experience centres are now fully open here for your enjoyment and are offering 15% ticket discounts for visits between Monday and Thursday. Blur the boundaries and fully immerse yourself in a new VR world from as little as £5!!!
What do you recommend?
The London Rollercoaster Tower by ImmotionVR at London O2 brings together world-class CGI experts, award-winning content creators, amazing storytellers and state-of-the-art motion platform technology to provide one of the most unforgettable, unique and truly immersive VR experiences on the planet. At the O2 you will also find an events arena and theatre, the Icon retail outlet, bars, restaurants, Cineworld, Hollywood Bowl and Oxygen Freejumping Trampoline Park. 
Take a look at some amazing footage here: 
Covid Notice
All VR Experience Centres will all be guided by local, regional and national guidelines regarding COVID-19 and upon reopening safety measures will be fully in place: headsets, seats and hand rests will be cleaned with antiviral disinfectant before and after use; hand sanitising stations will be available on entry and exit and staff will wear protective gloves and face masks at all times. A reduced number of people will be allowed into the centre at any one time to maintain social distancing.