VR for education
ImmotionVR has always been at the cutting edge of technology, animation and virtual reality; with an Emmy Award-winning team of documentary filmmakers and CGI artists working out of studios in Los Angeles and Manchester.
ImmotionVR is a new kind of entertainment company with a pedigree in content creation and emerging technologies, dedicated to creating the most memorable VR content available today. 
"Storytelling is in our blood, and guest engagement is our mission.¨
Les Grzyl, Performance Director, ImmotionVR
ImmotionVR's mission statement to support the understanding and conservation of the natural world through the creation of unforgettable, engaging and immersive experiences is proving an invaluable education and entertainment resource for all.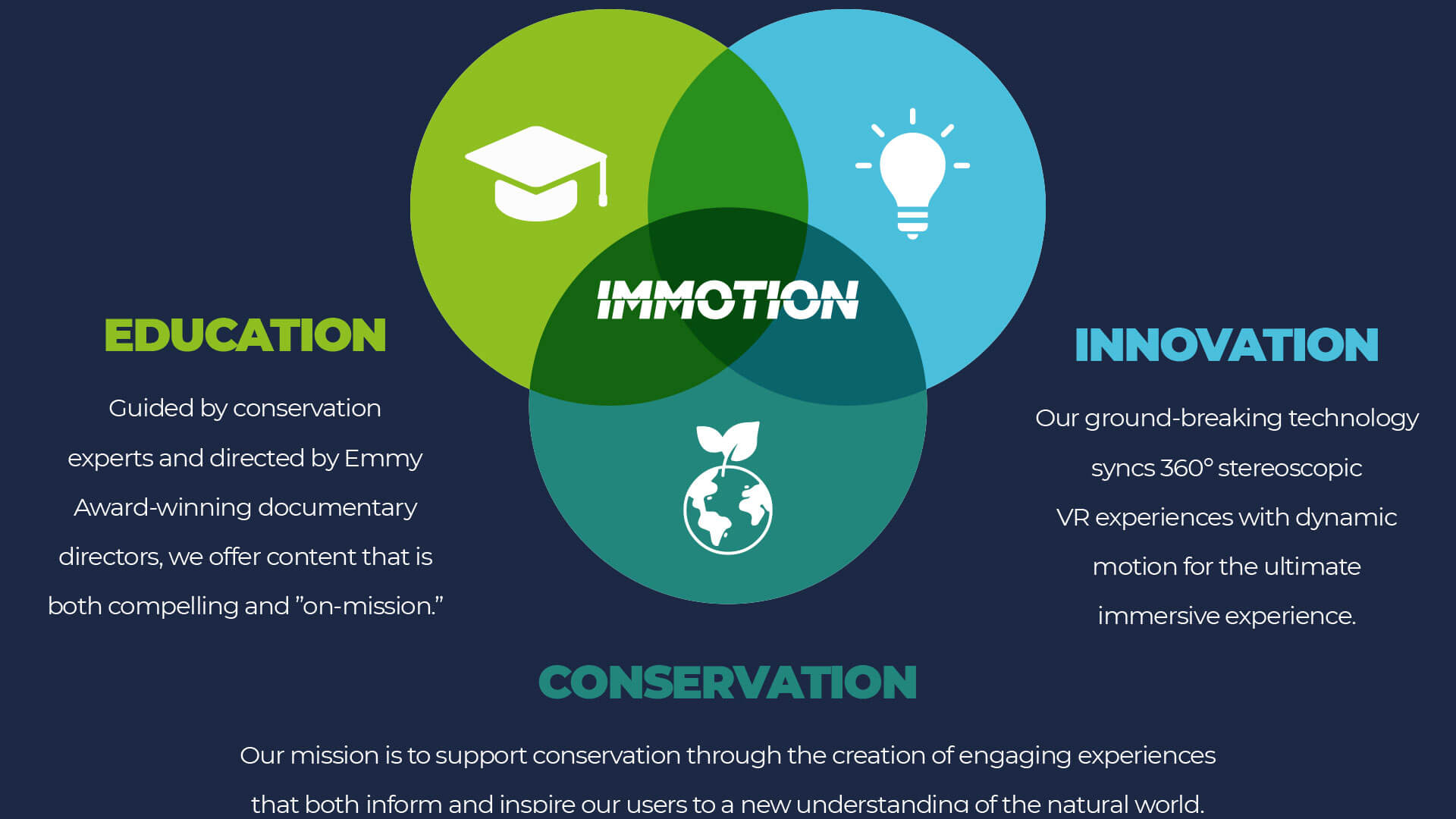 ImmotionVR: Delivering Edutainment Mission
¨The content and VR for education is also entertaining… incorporating conservation, education with technology.¨
Greg Charbeneau, Vice President, OdySea Aquarium
Many progressive schools have realised the central importance of conservation to their curricula and have fully adopted schemes reflecting this. I have experience of the significant impact of incorporating Eco School projects and Forest School practices – creating magical moments of awesome learning that will last a lifetime. VR for education can only enhance this increasingly relevant focus for learning.
For 30 years, The WWF has collaborated with over 10,000 UK schools in their education programmes, sharing a wide range of climate change resources, species and food growing activities to inspire pupils. Their work with schools is part of their mission to build a brighter future for both people and nature.
Many organisations are actively involved in the education of younger generations in the prime importance of conservation. ACT!ON has a WildED programme designed to equip young people with the skills and knowledge to lead their own environmental action projects that will have a positive impact on their local area.
Chester Zoo has recently committed to 'Preventing Extinction in a Changing World' , implementing a 10 year integrated and collaborative strategy designed to protect and enhance biodiversity, enabling society to co-exist and thrive with wildlife and develop nature-friendly, sustainable lifestyles and livelihoods.
ImmotionVR has taken the concept of conservation edutainment to another level entirely with VR for education! How better to understand the majesty and plight of some of our planet's most beautiful and endangered species, than fully immersed in their own epic, yet extremely fragile environments. I challenge any innovative school curriculum leader to create a resource that beats their VR for education experiences, available at these locations:
London
(O2),
Brighton
(Churchill Square),
Bristol
(Cabot Circus), 
Castleford
(Xscape Yorkshire), 
Glasgow
(Xsite Braehead)
I can only imagine the vivid quality of English descriptive writing or Science project entitled 'Understanding The Apex Predators of Tiger Bay', made possible by virtually diving into their extreme environment, safely, from your nearest Immotion VR Centre.
Or the lasting impact of a VR journey to Tonga's islands in the South Pacific, closely observing humpback whales in their diminishing habitat… maybe inspiring a child into taking eco-action at local level or signposting a future career in global conservation.
ImmotionVR: Swimming With Humpbacks
ImmotionVR are fully committed to VR for education: constantly creating innovative and edutaining content – including these immersive experiences that are really fun to play while you learn. Work experience will never be as stimulating as the Job Simulator – virtually learning about trades and professions like a gourmet chef and office worker. Or Electronauts – plunging budding DJs into a surreal sonic experience where they can remix, compose, jam, and perform on uniquely designed electronic instruments.
Without doubt, ImmotionVR isa company at the forefront of exciting, entertaining and immersive VR experiences for education. Now we're in the new normal and the school term has commenced, why not transport your son or daughter, pupil or student, to the new, inspiring dimension of VR edutainment?
Paul Carolan: Head of Content at Higher Ground UX & CRO